3 mutually supportive and complementary areas of expertise
R&D
very year, MILLBÄKER invests 5% of its revenue in R&D.
The work of our R&D teams is structured around the following subjects:
Organoleptic work: Maximizing the potential of ingredients with the aim of developing new sensory pallets(e.g.: speciality breads with new textures and flavours, inclusion products etc.).


Technological work: Working on the technological properties of ingredients and their application in baking (e.g.: making products more moist or longer lasting with special enzymes).


Innovation: Creating innovative, trend-setting formulations.
(e.g.: introducing Clean Label products without additives or preservatives; creation of gluten-free preparations etc.).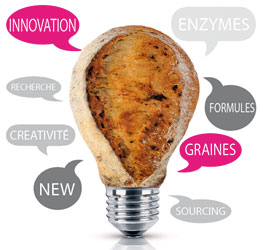 Baking Centre
Our Baking Centre enables our team of technical experts to develop and check our formulations by reproducing real artisan and industrial baking conditions.
The everyday job of our bakers consists of the following:
Conducting baking checks on samples of wheat and flour sent on a daily basis by our clients.


Working together with the R&D team to develop tomorrow's products for the bakery.
Within this framework, our Baking Centre is Research Tax Credit approved by the Ministry of Higher Education and Research


Validating that industrial productions comply with specifications.


Conduct technical training with clients and their sales teams on specific products and ingredients.
Within this framework, our Technical Centre is an approved training centre by the French Ministry of the Economy, Industry and Employment.
Physical/chemical test laboratories
Teams at our laboratory conduct personalised tests based on our clients' needs and background, using state of the art equipment.
Each year over 5000 wheat and flour tests are conducted to:
Monitor wheat and flour quality to establish what corrections are required to maintain their consistency.
Provide our clients with personalised technical support, where necessary (wheat models, flour correction etc.).